Taiwan has had two unique events recently.
The
World Games
for the first time are being hosted in
Kaohsiung City
in southern Taiwan. You might have noticed that the U.S. recently won the gold in
ultimate frisbee
. The host city was very well organized and the opening ceremony was said to be beautiful but unpretentious, giving the city of Kaohsiung and the nation of Taiwan international dignity.
Please pray that these World Games in Kaohsiung will put Taiwan on more Christian's minds so that they will pray for Taiwan. Also, please pray for Kaohsiung. We would like to expand our church planting work to the south of Taiwan, including the city of Kaohsiung and we would like to recruit both foreign missionaries and Taiwanese church planters for that task. Please pray that God will send out the laborers for His harvest field.
Secondly, yesterday morning, we got to see an eclipse of the sun. As I left the building headed for my Taiwanese-language class, I noticed the light seemed a bit dimmed for mid-morning. I thought, hmm, I wonder if a typhoon is coming. There were quite a few clouds, but there was also quite a bit a blue sky visible. I thought that it was really strange. But then I noted a lot of people looking up -- and so I looked up, too. And through the thin clouds, you could see a
solar eclipse
. There was only a thin sliver of brightness like a fingernail. Most of the sun's light was blocked by the moon! I heard that there was a full solar eclipse in other parts of Asia, but the partial eclipse here was still spectacular. There will not be anything like this in Taiwan for another 300 years. Our children got to see it, too. Perhaps they do not realize how rare and precious the opportunity was.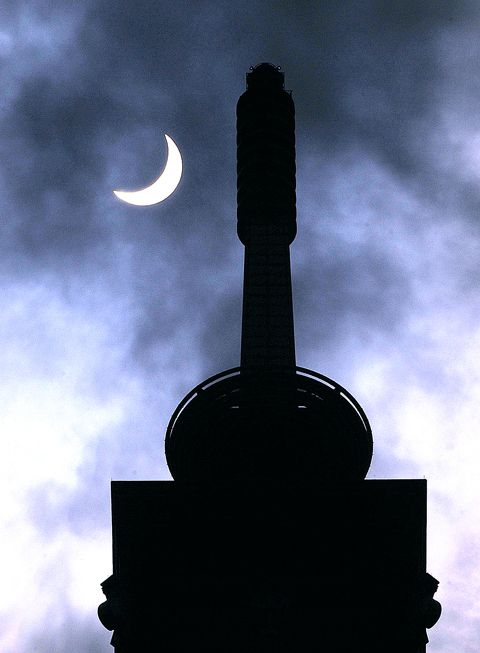 Solar eclipse seen through the clouds looking past the top of the tallest building in the world -- Taipei 101

As I was walking to my class, I thought -- God's glory will eclipse the sun one day -- more like the lights of Taiwan's many cities block out the stars at night. It simply is too bright to see the stars clearly. Usually you might be able to see a few, and of course, Venus is visible, but that is about it.
In the new heavens and new earth we will not need the sun but will walk by the light of our God who makes His dwelling with His people.
What a glorious thought! How precious it is to be one of God's adopted children.
Will you join me in praying that more and more Taiwanese will one day look to God as their Light and trust in the Light of the World who gives them life -- Jesus Christ, our Lord?
Revelation 21:3-4 "Behold, the dwelling place of God is with man. He will dwell with them, and they will be his people and God himself will be with them as their God."
Revelation 21:22-23 "And I saw no temple in the city, for its temple is the Lord God the Almighty and the Lamb. And the city has no need of sun or moon to shine on it, for the glory of God gives it light, and its lamp is the Lamb."
(ESV)